Regnskabsåret 2018: Sennheiser styrker investeringer i R&D og øger omsætningen
London, Juni 18, 2019 - Sennheiser-koncernen endte med en omsætning på 710,7 mio. euro i regnskabsåret 2018, hvilket svarer til en vækst på 43,0 mio. euro eller 6,4 pct. i forhold til 2017. EBIT landede på 21,2 mio. euro. Den familieejede virksomhed kigger således tilbage på et succesfuldt regnskabsår, som sætter kurs mod bæredygtig vækst i de kommende år. Sennheiser øgede endnu engang investeringer i forskning og udvikling (R&D) til 60,5 mio. euro i 2018, hvilket er en vækst på 4,5 pct. i forhold til 2017.
Læs den fulde pressemeddelelse på engelsk nedenfor.
---
"We are pleased to look back on a successful year. Thanks to a consistent focus on the needs of our customers, we created a solid foundation for positive business development in 2018," said Daniel Sennheiser, co-CEO of the company. "As an independent family business, we act in the long term and have invested in strengthening our core competencies in recent years. This is now reflected in a very successful product portfolio," explained Dr. Andreas Sennheiser, co-CEO of Sennheiser. The company started the fiscal year 2018 with a new organizational structure with a clear focus on the Consumer and Professional divisions. While Sennheiser's Professional Division continues to focus on wireless microphone technology and intelligent solutions for meetings and conferences, the company's Consumer Division is focusing on "Smart & Connected" audio experiences.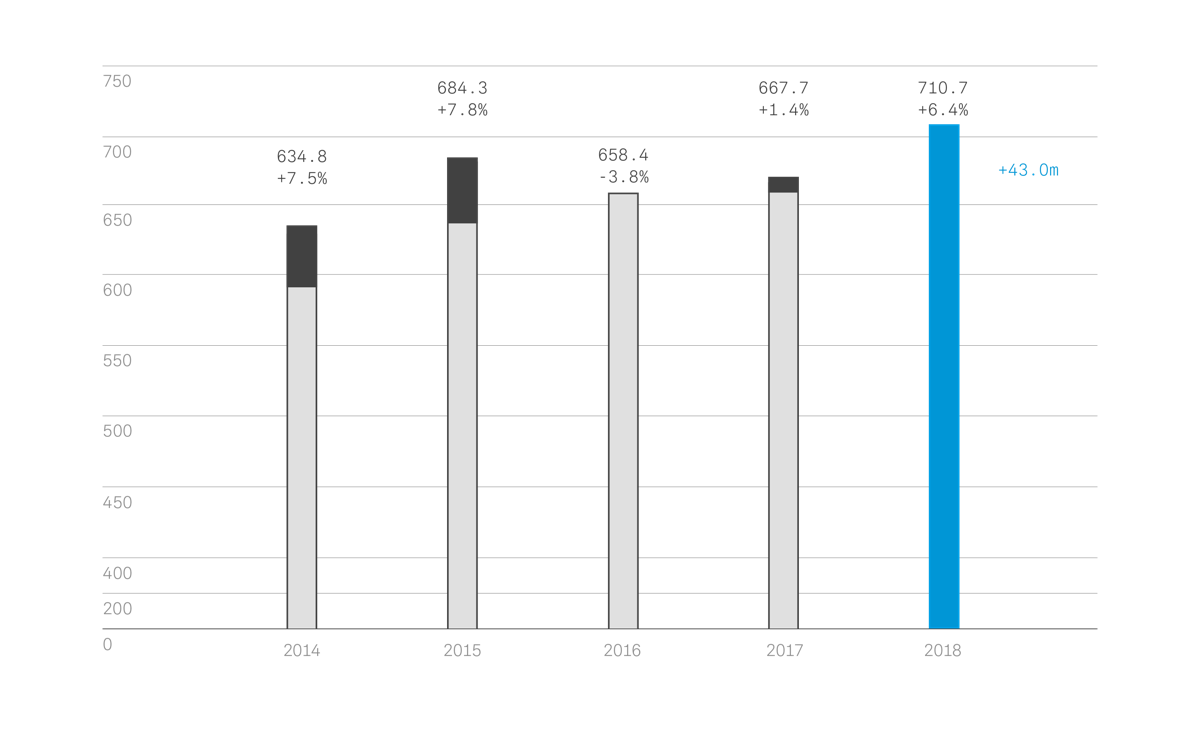 Slight increase in turnover in both divisions
The Professional Division generated turnover of €332.7 million in fiscal year 2018. This corresponds to an increase of €13.9 million, or 4.3 percent, over the previous year. Especially the evolution wireless G4 microphone system, the IE 40 PRO in-ear monitoring headset and the TeamConnect Ceiling microphone for conference applications contributed to turnover growth.

The Consumer Division generated turnover of €378.0 million in the past fiscal year, an increase of €29.2 million, or 8.4 percent, compared to the previous year. In particular, the expanded product range of Bluetooth headphones had a positive effect on turnover. Most recently, Sennheiser successfully launched the MOMENTUM True Wireless.
Growth in all regions
Turnover in the APAC region amounted to €158.5 million in the year under review. This is €17.0 million, or 12.0 percent, more than in the previous year. Sennheiser's focus markets in China and Australia made a particular contribution to the increase in turnover. In addition, the South Korean market grew disproportionately.

The EMEA region generated a year on year increase in turnover of €8.1 million, or 2.3 percent, to €359.8 million. In its home market Germany, Sennheiser was able to increase turnover by 1.7 percent, or €1.6 million, for a total of €101.2 million.

In the Americas region, turnover increased by €17.9 million, or 10.3 percent, year on year to €192.4 million. The performance of the US dollar, which significantly depreciated in value against the euro over the course of the year, had a limiting effect.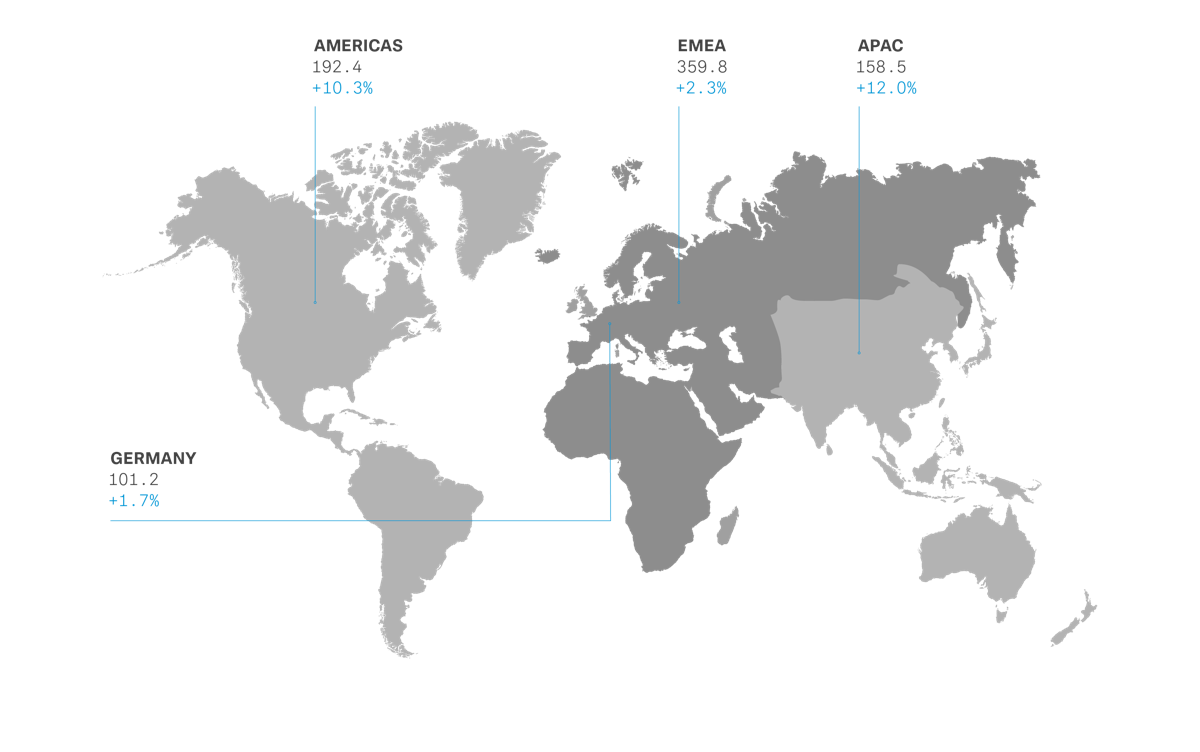 Strengthening research and development
"In order to create innovative audio experiences for our customers and to shape the future of the audio industry, we are continuously investing in our research and development," explained Dr. Andreas Sennheiser. Thus, the Sennheiser Group's investment in 2018 increased by 4.5 percent to €60.5 million compared to the previous year, which corresponds to 8.5 percent of turnover. "This not only enables us to develop new products faster, but also do so together with our customers. As an example of such cooperation, we developed the new Digital 6000 mini bodypack SK 6212, which has been very well accepted by the market," said Dr. Andreas Sennheiser.

Sennheiser's AMBEO technology program remains an important strategic component of the Consumer and Professional divisions: "We are convinced that 3D audio is the future of the audio industry. That's why we will continue to do research in this area, integrating 3D audio into other products and bringing this unique sound experiences to our customers – whether it's through recording, mixing or playback," said Daniel Sennheiser. "The new AMBEO Soundbar is a good example of this: Designed as one of the best soundbars in the world, it combines the acoustic performance of a 9.1 home cinema system in one device," added Dr. Andreas Sennheiser.

Personnel Development
On an annual average in 2018, the Sennheiser Group employed 2,734 people (previous year: 2,728). At the end of the year, the number of Sennheiser Group employees was 2,885 (previous year: 2,833).

These were employed approximately equally within (51 percent) and outside of Germany (49 percent). The number of trainees worldwide totaled 62, compared to 63 the previous year.

---
Victoria Chernih Communications Manager North and East Europe, Sennheiser
---
---
Victoria Chernih Communications Manager North and East Europe, Sennheiser
Mark Ellegaard Holm Kommunikation