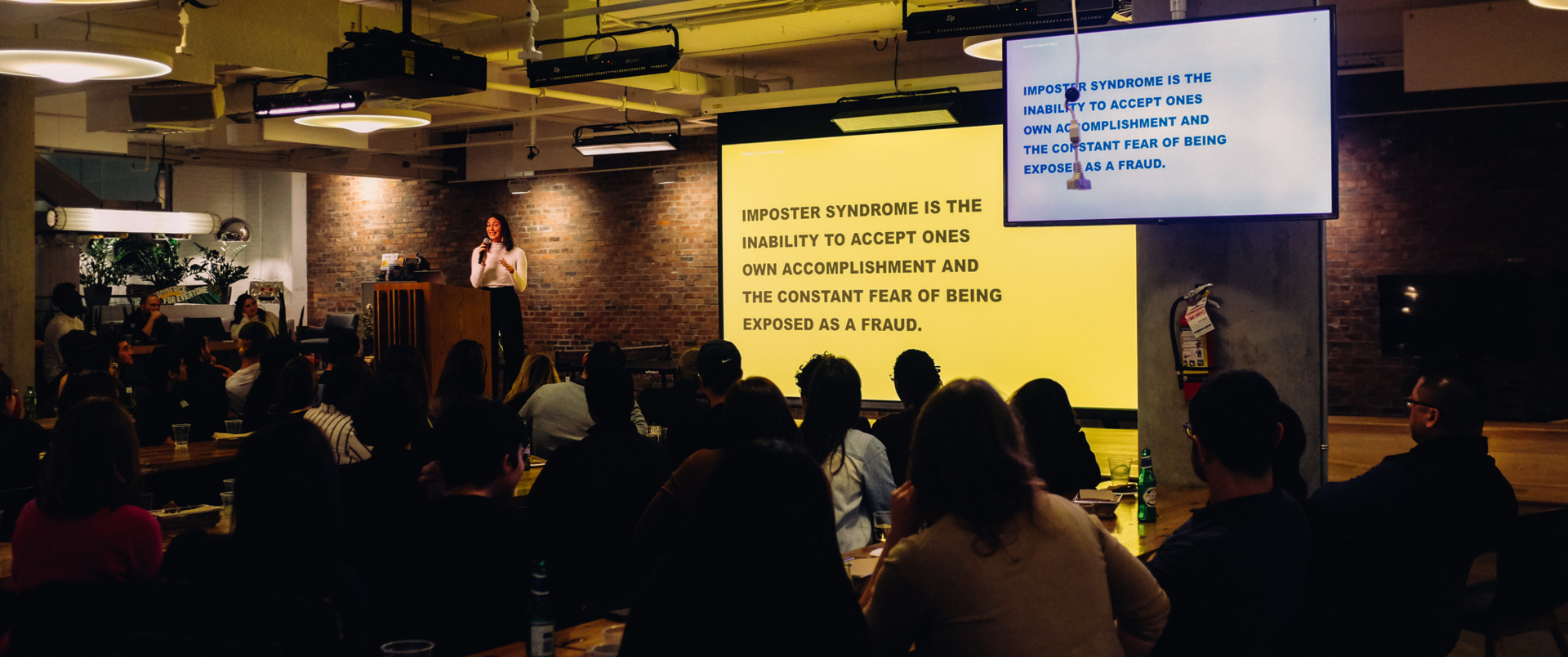 Three tips for successful PowerPoint presentations that tend to be overlooked
Good presentation skills lead to better career prospects. Here's what you should know to prepare for your next PowerPoint presentation.
Presentation skills make or break careers. Whether you're applying for a job, are presenting a solution to customers, or speak at internal company events – PowerPoint presentations will be part of the game. If you want to be convincing, you not only have to put together good slides, but also get the content across accordingly. Professionals often focus on superficial design tips and forget the much more important inner attitude that is the basis of a successful presentation. In this article, you will learn what you need to know in order to be well prepared for your next PowerPoint presentation.
Presentation Tip No. 1: Align the workload with the impact
This point can easily be missed when it comes to tips and tricks for presentations. Because creating the perfect (PowerPoint) presentation is one thing, but working effectively is quite another. If you want to prepare the perfect 30-minute presentation, it could theoretically take days or weeks. If you opt for a more design-heavy slide-show software like Canva or Prezi, source all your information and visualize the data in stylish graphics, the process becomes incredibly extensive. It is possible, however, that the meeting at hand requires those efforts. Some of the most important (i.e. highest impact) meetings are:
- Presentations in front of a large number of people (e.g. at the annual meeting of the entire company). What you say and show here must be perfect, because it will influence hundreds or thousands of people in their thinking and attitudes.
- Presentations where a lot of money is at stake (e.g. presentations to possible investors or a very large potential new client). Here, the smallest glitches may determine the financial outcome, possibly in the millions.
→ The leveraging effect is particularly strong for meetings in front of a large number of people, as well as for presentations that involve very large sums of money. In other words, there is simply too much at stake to spare time and effort in preparing the presentation.
But most PowerPoint presentations are neither a decisive factor in motivating hundreds of people nor will they determine the whereabouts of millions of dollars. Therefore, it is simply not worthwhile to allocate too much time and effort to their preparation. Meetings on the other end of the spectrum include:
- Lunch and Learn presentations, in which the presenter introduces a topic to a few colleagues during the lunch break.
- Summaries of KPI achievement in a weekly team meeting
→ These presentations don't decide over the course of a business. Even if they did not take place, it would have little effect on the success of the company or employee satisfaction. It should therefore be possible to prepare these meetings within a few hours maximum. Sometimes there are templates that can be used or existing slides from last time that can be easily adapted. It is not worth innovating here.
So before you start watching tutorials for the fanciest presentation tools, set a time frame in which the presentation should be finalized and practiced. Use these times as an orientation: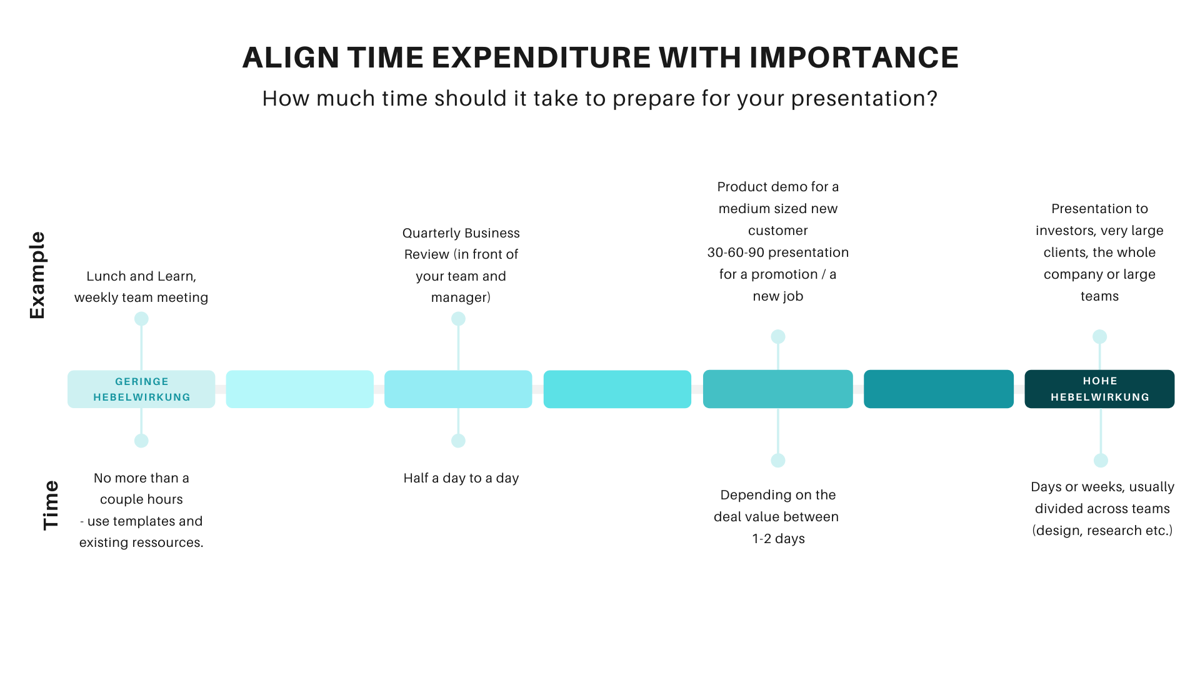 Presentation tip no. 2: Don't fear the audience
Whenever we stand in front of a crowd, whether in person or virtually in online meetings, we tense up. Most people perceive speeches and presentations as stressful situations and about 25% even suffer from fear of public speaking. PsychologyToday explains in this 2017 article why this is so.
On the one hand, the speaker's predisposition for nervousness plays a role, in addition to experience and competence. Those who already consider themselves to be good at public speaking, have a lot of experience with presentations and speeches and rarely get nervous anyway, have a big advantage.
Unfortunately, according to the article, presenters often overestimate the importance of the presentation and therefore drive themselves crazy. If the presentation is perceived as a threat to one's own image or even to advancing in one's career, fear and nervousness are natural reactions. If you assume that the audience will evaluate the presentation itself rather than the content, you are making it even harder for yourself.
But there's something you can do to calm your nerves: imagine the presentation to be a normal conversation. If you were to talk to a colleague about the material over coffee, would you still be anxious?
Or would you rather just focus on bringing your points across, keeping the other person engaged? A presentation in itself is nothing more than that. Except that you're speaking in front of a larger group of people.
Another aspect to consider is this: your audience wants you to succeed! Think back to all those countless meetings in which you've sat on the receiving end of a talk. Didn't you want to jump in and help a stuttering colleague, or somebody who suddenly lost their train of thought? Wouldn't you tense up together with the presenter when obvious mistakes on a slide are uncovered by the listeners? Your audience wants things to go just as well for you as you would hope they would for them. Even in job interviews the goal of HR is to make a hire, to find the best possible candidate. The people who interview you are routing for you so they can finally fill that position!
So always keep in mind that nobody means you any harm and picture the audience as fans and not as devastating critics.
Presentation tip no. 3: Do not fixate on the design of the PowerPoint presentation
(put if you must, consider these tips)
So how important is it that the PowerPoint presentation is well-designed, stands out and impresses? Opinions differ, as Olivia Mitchell shows by comparing quotes from PowerPoint experts. We would say design and a reliable technology lay the basis for a successful presentation. You cannot give a good PowerPoint presentation unless at least the following is given:
Professional, easy to read PowerPoint slides
- Do not use the default settings in PowerPoint (typical fonts, design templates, and colors of PowerPoint shapes)
- Use professional fonts and lots of "white space", i.e. blank space on slides
- Make sure that the elements on the slides are aligned in a visually appealing way (when in doubt, ask a designer)
- More tips can be found in this article from HubSpot.
Tools such as the microphone and meeting tools like Skype or Zoom that work correctly and reliably
- Test the technology before the presentation
- Always bring an additional data carrier with the PowerPoint presentation and/or your own laptop
Good preparation and penetration of the topic of the presentation
- Go over the presentation with other people and ensure that you have really grasped the topic
Once these requirements are met, the design is not decisive for the success of your presentation. What counts in the end is whether you can establish a connection to your audience and spark their interest in the topic. Bad presentation design or failing technology can be stumbling blocks. But if they are eliminated, you gain much more with rhetoric and charisma than with fancy fonts and animations.
Please also read our article on presentation techniques for business meetings for more information.